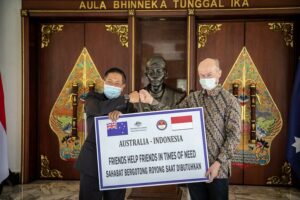 Micah Australia warmly welcomes the Labor party's pledge to invest in Southeast Asia, through expanding aid to the region and increasing partnership.  
Should Labor be elected in the upcoming election, they will increase the Australian Official Development Assistance towards development within Southeast Asia by $470m.  
To support this funding pledge, Labor will look towards developing an ASEAN (Association of Southeast Asian Nations) economic strategy which would increase trade and partnership with Australia and the region.  
Alongside this financial commitment, Labor will seek to create an office within the Department of Foreign Affairs and Trade (DFAT) specifically for the region of Southeast Asia, modelled upon that which the Coalition implemented with the Pacific region. 
The triple threat of COVID, conflict and climate change continue to have devastating impacts upon our neighbours. The Asian Development Bank recently reported that COVID has pushed nearly 5 million more people within Southeast Asia into extreme poverty. Unfortunately, the effects of climate change and conflict will only exacerbate this. Southeast Asia is considered to be one of the world's most vulnerable regions to the effects of climate change. This high-risk area is already facing rising sea levels, heat waves, droughts and increasingly intense rainstorms. 
Conflict in Myanmar in particular is adding to this humanitarian crisis, with a predicted 14.1 million people in need of humanitarian assistance in Myanmar alone. 
Now more than ever, we must be loving our international neighbours well through investing in aid and development.  
In response to the pandemic, the Coalition government generously stepped up within the Southeast Asia region through providing temporary aid packages, including $550 million for development and security and a commitment to deliver 5 million COVID-19 vaccines. 
Whilst we acknowledge and appreciate these investments to the region which the Coalition made, we recognise that this recent announcement by Labor is laying footing for longer term and deeper investments in regional partnerships. We call upon both of these parties to create a safer world for all, by continuing to increase aid and humanitarian assistance to our neighbours in need.