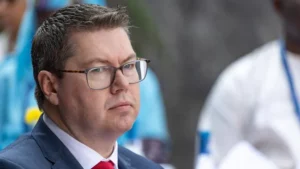 The government is being urged to bolster aid by more than $150m to help stop the global food crisis from killing millions. The Australian Council forInternational Development last week met International Development Minister Pat Conroy, asking the Albanese government to provide more funding for countries such as Afghanistan, Syria and Yemen facing famine and collapse.
Council chief executive Marc Purcell said Australia needed to ramp up its aid spending to prevent destabilising. "Food scarcity and rising prices hit hardest in places that are already unstable. Like Sri Lanka, hunger will contribute to governments and societies falling into chaos," Mr Purcell told The Australian.
"We have already seen civil unrest triggered by food insecurity in 17 countries and there's more to come. Australia not only has a moral duty to save lives but a vested interest in preventing global and regional instability." Figures from humanitarian organisations such as Plan International show global hunger fell in the decade leading up to the Covid-19 outbreak, but the pandemic, coupled with the war inUkraine that has disrupted the supply of wheat and fertiliser, has plunged several countries into food crises and resulted in about 50 million people facing starvation as prices for basic goods increase by more than 40 percent.
Plan International Australia chief executive Susanne Legena said the government could either spend the money now to prevent mass starvation or spend it down the track to intervene as countries collapsed, extremist groups rose to power or migration exploded. "When we look at conflicts around the world or massive movements of people, you can always trace that to hunger," she said.
"The Arab Spring sprang up because of food shortages. "Whether we deal with this problem now or down the track, in peacekeeping or investing in militaristic responses to movement and migration of people, we will have to deal with it." Ms Legena said if the government did not increase support in the October budget, millions would be dead or dying by the end of the year."
By Christmas, we're going to see those photos of families starving and children with bloated bellies and by that stage it will be too late," she said. "We won't be able to save them with the intervention we can offer." In opposition, Labor urged the former Coalition government to reverse its cuts to aid, which had been reduced from 33c per $100 of national income in 2011 to just 19c per $100 in 2021. "This is the biggest increase to Australia's aid budget since 2011, and follows nine years of cuts by the Coalition government," Mr Conroy said.
Opposition international development spokesman Michael McCormack said he had spoken personally to a number of agencies worried about famine and said Australia had always "played its part" when it came to international crises.