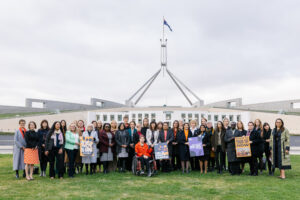 A major delegation of women Christian leaders has urged all sides of politics to back a $150 million emergency package to save lives from starvation in Africa and the Middle East.
‍With Somalia teetering on the brink of a catastrophic famine, the Micah Women Leaders Delegation met with senior government ministers, key opposition figures, cross bench MPs and minor party representatives in Canberra on Wednesday.
The group of 40 women made the case for Help Fight Famine, a coalition of Australia's leading aid and development organisations, which is campaigning for Treasurer Jim Chalmers to spend $150 million on the hunger crisis threatening almost 50 million lives in 45 countries.
‍The Horn of Africa is experiencing its worst drought in four decades. But the added pressure from climate change, Covid and the war in Ukraine has made this hunger crisis unlike any other.
‍Uniting Church of Australia Reverend Amel Manyon, who was part of the delegation, is a South Sudanese community leader and minister in Adelaide. She came to Australia as a refugee in 2008.
‍Food insecurity has reached its most extreme levels in her home country since independence in 2011. Three quarters of the population – 8.3 million people – are facing severe food insecurity.
‍Rev Manyon recently visited relatives in a Ugandan refugee camp, where a family of 10 receives 5kg of grain to feed them for a month. That barely lasts a week. Some leave the camp in search of food.
‍"While I was there I was told there would be not enough food, especially after Covid and the war in Ukraine," she said.
‍"Many children have died, women, vulnerable people – they died because they went searching for something to eat.
‍"I'm asking the government in Australia, please do something now.
‍"People are dying because of hunger and it's not good for us to sit and listen to their stories and not do something.
‍"I believe the government of Australia which helped me come to Australia to have this opportunity to support my family will do something right now because that's the government I believe in."
‍A decade ago the world was slow to act in Somalia and 260,000 people – half who were children – died of starvation.
‍UN aid chief Martin Griffiths overnight gave a "final warning" we are in the "final minute of the 11th hour" in Somalia.
‍During the 2011 famine in Somalia, Australia contributed $135 million in today's terms.
‍A Department of Foreign Affairs and Trade evaluation found Australia's contribution was commendable, but would have been more effective if delivered earlier.
‍Help Fight Famine is calling for $150 million to address the unfolding catastrophe in the worst-affected hunger hotspots in the Horn of Africa, Afghanistan, Syria and Yemen.
‍Caritas Australia chief executive officer Kirsty Robertson, who recently travelled to Ethiopia, was also a part of the delegation which met with more than 40 leading politicians in Canberra.
‍"Without urgent action the global hunger crisis will kill more people than Covid," she said.
‍"Along with the $150m in emergency funding, the Australian government must also plan to combat hunger long-term through a targeted Global Food Security Strategy.
‍"I saw first-hand in Ethiopia the devastating impacts of climate change, Covid and conflict in one of the world's hungriest countries. Each day we wait to provide emergency relief risks more deaths."
‍The Micah Women's Delegation consists of senior women in the Australian Church across the different denominations and Christian women from leading aid and development NGOs.
‍Contact: Matt Coughlan 0400 561 480
‍