Opinion Piece by MICHAEL MCCORMACK
(Originally published in the Daily Telegraph)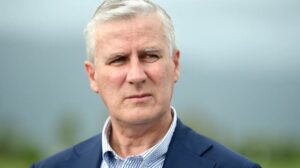 It's hard to imagine an entire classroom of Australian children dying every three and a half minutes and no-one paying attention. This is the reality for millions of families across the world as we prepare for one of the worst famines of the century.
Right now, 10,000 children are dying every day from hunger. And it is barely getting a mention. In a few weeks, a famine will be declared in Somalia. Soon to follow will be Afghanistan, Ethiopia, Nigeria, Somalia, South Sudan and Yemen.
The threshold for a famine to be declared is extreme. One in three children must be already suffering from severe malnutrition.
The last time a famine was declared in Somalia, of the more than a quarter of a million people who lost their lives, 129,000 were children under the age of five. Half of the total death toll perished before a famine was declared.
I am entirely conscious of the cost-of-living pressures affecting everyday Australians and the very real consequences on households. I am aware of Australians struggling to recover physically, mentally and financially from the pandemic.
But if Australia wants to be a world leader, our responsibilities need to extend to aid. In June, the United Kingdom, United States, Canada, France, Germany, Italy and Japan pledged $4.5 billion to help ensure food security around the globe.
Australia needs to step up and join the global response and provide its own funding. The pandemic, unpredictable climate and the war in Ukraine have created the perfect storm for a global food crisis. Since the start of the pandemic, hunger has increased by roughly 150 million people across the globe. Jobs have been lost or made insecure, household budgets have tightened and supply chains have been disrupted, resulting in increased prices.
The Horn of Africa is experiencing its worst drought in 40 years with four consecutive failed rainy seasons.
Across the world, extreme weather events have damaged crops and livelihoods, drastically reducing people's ability to feed themselves. The invasion of Ukraine by Putin is an act of military bastardry.
It is not only causing a devastating impact on Ukrainians but also the world's most vulnerable by exacerbating the global food crisis. The Russia-Ukraine war is being fought in the breadbasket of Europe.
Ukraine contributed 40 per cent of all wheat exports the United Nations World Food Program received to assist vulnerable nations worldwide before the conflict.
Yemen, Somalia, Ethiopia and Sudan depend on Russia and Ukraine for 40-90 per cent of supplies.
Australia can help fill that void. The food Australian farmers produce is even more in demand than normal.
I agree with National Farmers' Federation President Fiona Simson, who says we can be part of the solution. Food aid is worth exploring, particularly when we have bumper crops. The war is also driving up the cost of fuel and gas and has doubled the price of fertiliser over the past 12 months, causing vast ramifications in agriculture.
The conflict has altered global patterns of trade, production, and consumption of commodities. Historically high prices are likely to continue through to the end of 2024.
The simultaneous timing of these events means the fiscal space for government action is already severely constrained. I appreciate that. But the ask from the leading humanitarian organisations on the ground and active in this space is a reasonable one of $150 million. Dozens of countries are already facing widespread malnutrition, starvation and death. Every 48 seconds a person is dying of hunger in Ethiopia, Kenya and Somalia.
We cannot afford to wait to get a formal declaration to tell us what we already know.
Michael McCormack is the Shadow Minister for International Development and the Pacific.