This article originally appeared on news.com.au here.
---
Fifty million people are facing "the worst form of human suffering" with one country in particular staring straight into hell.
For many, the word 'famine' takes us back to the 1980s. It conjures up devastating images of hollow, hungry faces of Ethiopian children. It transports us to the Live Aid concert, where a cavalcade of celebrities literally thrust famine onto the world stage.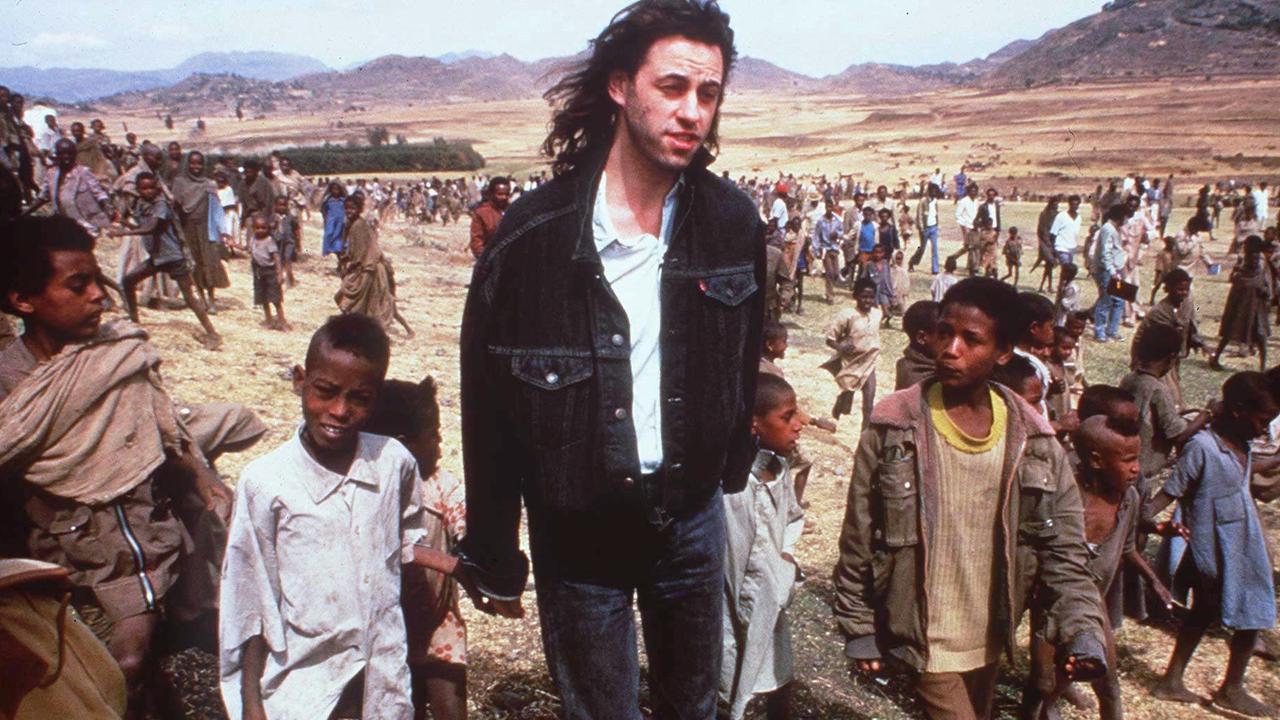 Singer Bob Geldof with children in Ethiopia for Live Aid in 1985.
Now, the nightmare is unfolding again. But this time it's much worse.
About 50 million people – twice the population of Australia – are on the brink of famine in 45 countries around the world. And famine could be declared any moment in Somalia if we don't act soon. But what is famine? Where is it happening? And why?
Many things we hear about the 'f-word' are false.
It's important to bust these myths to better understand the problem – because there's still time to prevent the worst of this hunger crisis.
Famine is not common
Humanitarians never drop the 'f-word' casually.
Famine – like a category five cyclone, or an earthquake that measures nine on the Richter scale – is a very technical term. Like those events, famine is incredibly rare but utterly devastating.
Only two famines were declared this century: Somalia in 2011 and South Sudan in 2017. The frequency of famines has dramatically reduced over the past 50 years.
Famine is only declared when three specific thresholds are met: firstly, when two in 10 households have no food; secondly, when three in 10 children suffer from acute malnutrition; and thirdly, when more than two adults or four children for every 10,000 are dying each day.
It is the worst form of human suffering. The greatest risk from famine is not starvation
Believe it or not, starvation doesn't kill most famine victims. Rather, they die from disease.
They become so weak from being hungry for months on end that their immune systems can't fight infectious diseases like pneumonia, diarrhoea, cholera, malaria, measles and, most recently, Covid-19.
Children suffering from severe acute malnutrition are nine times more likely to die of disease than a well-nourished child. Right now there are 13 million children in this crisis stage. Other factors associated with hunger crises, such as a lack of clean water and hygiene, create breeding grounds for deadly diseases.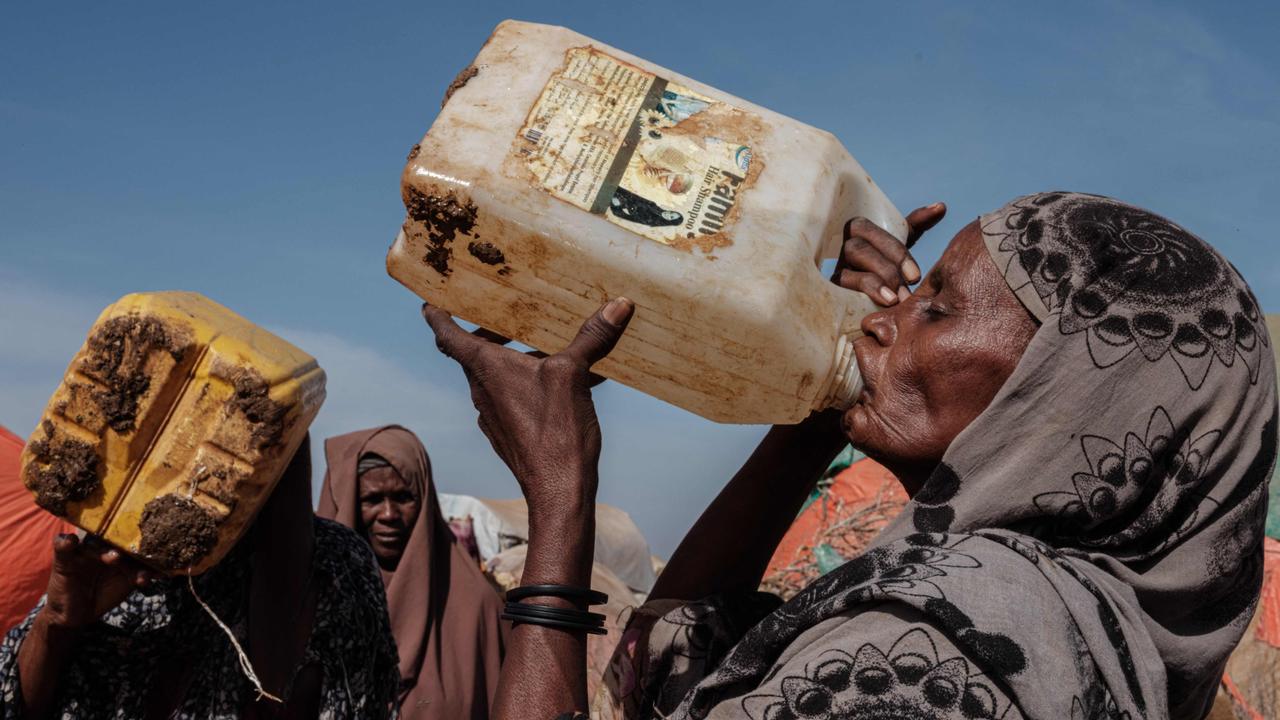 Hawa Mohamed Isack, 60, drinks water at a water distribution point at Muuri camp, one of the 500 camps for internally displaced persons in Baidoa, Somalia. Picture: Yasuyoshi Chiba/AFP
Over-population is not the cause of famine
How many times have we heard there isn't enough food to feed the world?
In reality, we live in an abundant world. We could feed 10 billion people (two billion more than the global population) with the food produced by farmers each year.
But 30 to 40 per cent of all food is wasted. Every year, rich countries waste almost as much food (222 million tonnes) as the entire food production of sub-Saharan Africa (230 million tonnes).
Over-population is not the cause of famine. The countries at greatest risk of famine today – Afghanistan, Somalia, Yemen, and South Sudan – are by no means the most populous. (China, India and the US are the world's most populated countries).
The cause of famine is complex. Each of the 45 countries now identified as on the brink of famine are facing a 'tsunami of suffering' – wave upon wave of conflict, climate change, failed harvests, economic hardship, political instability, and supply chain disruptions from Covid-19.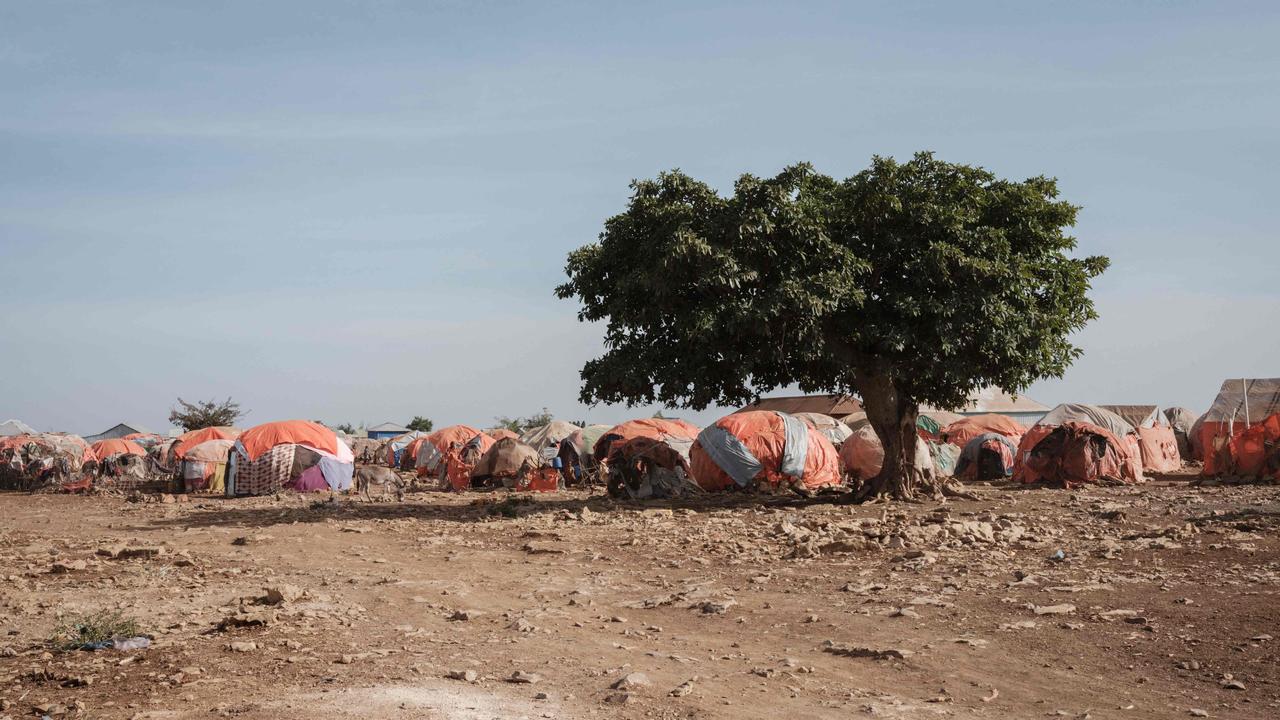 Makeshift tents are seen at a camp for internally displaced persons (IDPs) in Baidoa, Somalia in February 2022. Picture: Yasuyoshi Chiba/AFP
Most recently, Russia's invasion of Ukraine has fuelled record-high food prices and up-ended global wheat supplies, leaving 20 million tonnes of corn and wheat locked in silos and blocked shipyards.
Some countries, like Somalia, depend on Russia and Ukraine for more than 80 per cent of their wheat imports.
Famine is not inevitable
Famine is entirely preventable and predictable. That is because, in large part, famine is man-made.
Just as there are many causes of famine, there are many tools to fight famine. Conflict is a primary driver, so any measure to prevent conflict can go a long way to reducing famine risk.
We can also support smallholder farmers to plant more drought-resistant crops and give children meals at school. At a global level, we need policy change to reduce hoarding and trade barriers so food can flow freely.
And when shocks to a region's food supply become too great, early intervention with emergency food aid and cash assistance is critical. Enter a crucial, peanut butter-based paste called RUFT (Ready to Use Therapeutic Food). This nutrient-rich, sticky paste can reverse child malnutrition within weeks, and it has a 90 per cent success rate.
Australians can help fight famine
This situation is not hopeless. When famine devastated Somalia in 2011, Australia was among the world's top five country donors.
It is time for Australia to be that humanitarian leader again.
World Vision is responding with its largest ever humanitarian response, providing lifesaving aid to 16 million children and their families in 25 hunger hot spots.
World Vision would like to see the Australian government join the fight against famine and deliver an emergency Famine Prevention Package of $150 million (or $10 per taxpayer) to the Horn of Africa, Yemen, Afghanistan and Syria.
Australians are drought experts. We are a nation built on dryland farming. We can share our knowledge, tools and resources with the world to combat hunger.
Dane Moores is a policy manager for World Vision.