Last month our Micah Women Leaders Network sent a delegation of 40 women leaders from across the Australian Church to Canberra, to raise the asks of our Help Fight Famine campaign. Their voice was heard loud and clear by our nation's leaders – we must act now to save lives!
Here are 5 highlights from this fantastic event:
1. Minister Conroy's powerful speech at our breakfast event
This was by far the most passionate speech on the case for Australian Aid we have heard in a long time, along with high praise for the advocacy work of Micah and its advocates like you!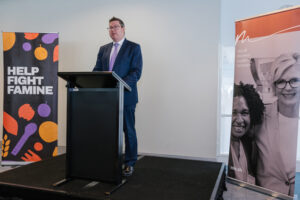 We highly recommend you read it here.
2. 46 Meetings with MPs across all sides of politics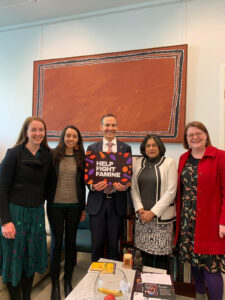 From the Deputy Leader of the Opposition to the Green's Foreign Affairs Shadow, many new 'Teal Independents' and plenty of ALP MPs and Ministers, our delegation galvanised significant support for Help Fight Famine across all sides of politics.
As a snapshot of the impact already:
Many MPs have posted on their socials, made speeches in parliament, and written to their Party leaders calling for their support
Labor MP Alicia Payne wasted no time, taking to the floor that afternoon to speak
Demonstrating the importance of our EMAIL YOUR MP action (which many of you have taken), MP for the marginal seat of Chisholm, Dr Carina Garland, told one lobby group (then all of parliament in a speech the very next day) how,
"Taking action to address extreme hunger is one of the top issues that I receive correspondence from my constituents about… I'm really grateful for the fact that the community is so outspoken about these issues, because that means I can effectively represent them in this place, advocate for solutions and be accountable to the people who voted for me."
3. Rev Amel Manyon's incredible testimony from the border of South Sudan and Uganda
Rev. Amel Manyon – a South Sudanese refugee now Uniting Church of Australia minister from Adelaide – shared the devastating reality for her extended family back in her home country.
Rev Amel shared how they simply are not being given enough food by the UN, with children starving and women risking their safety to leave the camp in search of whatever they can find.
You can hear Rev. Amel's story on an interview she gave while in Canberra for ABC PM.
4. Meeting with Foreign Minister Penny Wong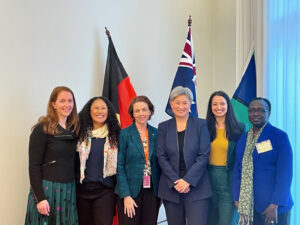 The Foreign Minister set aside 30 minutes to meet with five members of our delegation for a productive late-afternoon conversation in her office. The Minister's tone was one of familiarity and openness with Micah, as she shared the significant challenges in her new role responding to the many crises facing our world.
The Minister affirmed Micah's calls for famine action, noting the ongoing need to build bi-partisan support for this ask and the ALP's broader commitment to rebuild Australian Aid.
5. The power of the Australian Church united
It's hard to describe the sense of shared mission and Kingdom purpose when this network gathers. It is such a rich time of prayer, fellowship and pursuing God's heart together. There is no doubting the impact such Christian unity has on our Federal Parliamentarians (many explicitly saying so themselves!).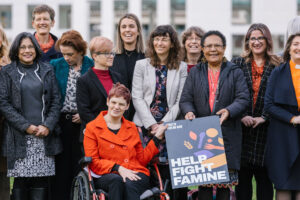 Looking ahead… 
It's important we keep as many emails and letters as possible going into MPs offices in the lead up to the Budget next week.
To do this you can: